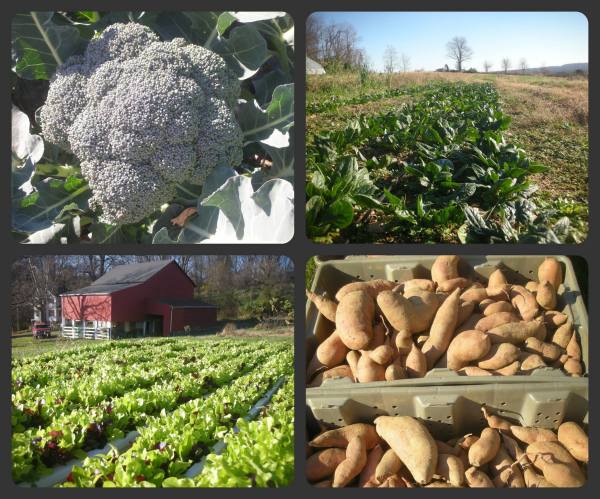 Community supported agriculture (CSA) is a term used to describe a special partnership between farmers and customers.  

     The customers become members, or "shareholders," in the farm for the entire growing season, receiving a weekly share of fresh, seasonal, chemical-free, non-GMO vegetables, herbs, and pick-your-own flowers.  

     The farmer benefits, too, by having customers already lined up before the season even starts.  

Pricing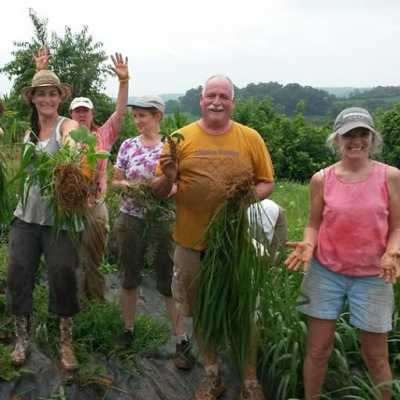 The cost for a 20-week season (mid-June through early November) is $500.  This can be paid in several installments to make it fit your budget.​​
     We also offer a few half shares in which the CSA member receives a full share every other week for a total of 10 weeks.  Cost for the half share is $250.
     The cost can be prorated if you join after the season begins.
Locations
York County location:

Our farm near Wrightsville and Hallam on Mondays or Thursdays between 2 and 7 p.m.
Lancaster County location: 

The porch of the Lancaster Friends meetinghouse just off of Columbia Avenue on Tuesdays between 3 and 6 p.m.

                                        110 Tulane Terrace
                                        Lancaster, PA 17603
                                        (This is not our mailing address) 
​
When in the season certain crops will likely be available:
CROP                            EARLY    MID    LATE 

Arugula                             X                      X
Basil                                  X            X        X
Beans                                              X        X  
Beets                                                         X
Broccoli                             X                      X

Butternut squash                                    X
Cabbage                            X                     X
Carrots                                                      X
Cauliflower                                               X
Celery                                                        X
Cilantro                             X           X         X
Cucumbers                       X           X
Dill                                     X            X        X
Eggplant                                         X
Flowers (pick-your-own) X           X
Garlic                                                          X
Green Onions                  X                       X
Kale                                   X                       X
Lettuce                              X                       X
Onions                                            X         X
Parsley                                            x         X
Peas (snap)                       X
Peppers (sweet + hot)                  X         X
Potatoes                                         X         X
Radishes                                                    X
Spinach                                                      X  
Tomatoes (many kinds)                X        X
Turnips                                                      X
Watermelon                                    X
Yellow Squash                   X           X 
Zucchini                              X           X
What's in a share
     There are usually 8 to 10 different items in the share each week.  The makeup of the share changes throughout the season.  

     We strive to offer you flexibility in the contents of your share by allowing you to substitute more of vegetables that you do want for less of vegetables that you don't want.
     Most of the food is harvested within a day or two of pickup (often within a few hours), and we take measures to ensure that it stays at the peak of freshness until you get it.  Shareholders often remark that our produce lasts much longer than what they get at a store.
     It's important to note that weather, pests, and other factors can affect the availability of specific crops.  One crop we usually don't grow is sweet corn because it takes more land than we have available.